WPhA 2022 Technician Conference
Nov 12, 2022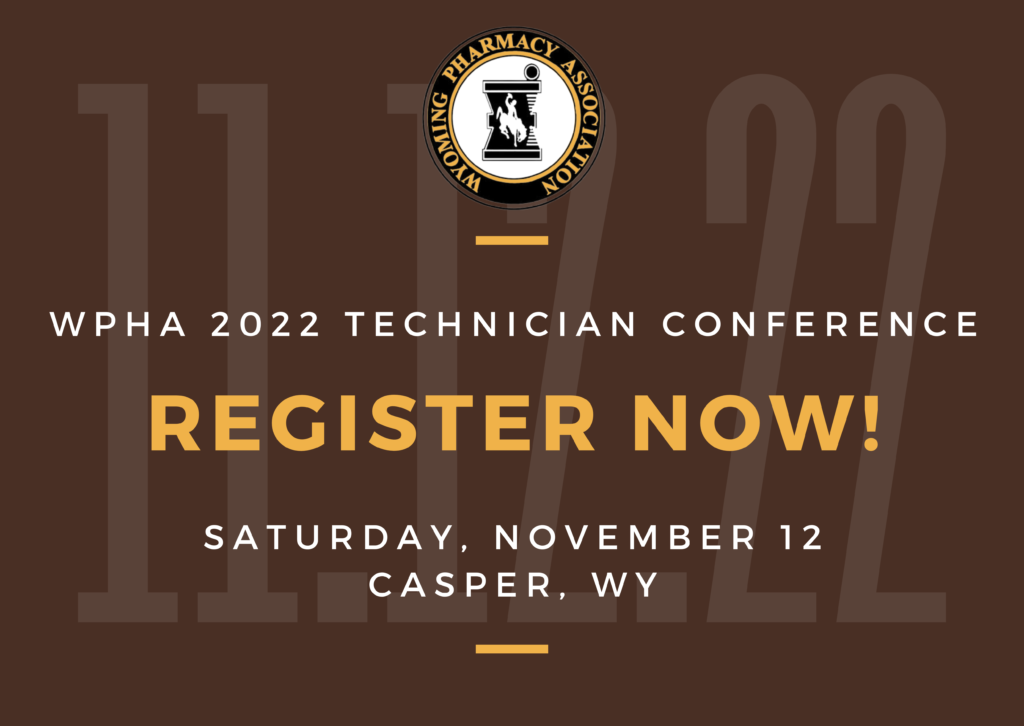 Save the date for the 2022 WPhA Technician Conference! This year's conference will feature topics such as Pharmaceutical Calculations, Legal Requirements, Smoking Cessation, and more!
DETAILS
Saturday, November 12, 2022
9:00 a.m. to 4:00 p.m.
Family Practice Residency Center
Casper, WY
WPhA Members: $100
Non-members: $125
DRAFT AGENDA
9:00am-10:00am – Dosage Forms
Dan Hagerman, PharmD
Pharmacist-in-Charge
ZooPharm, LLC
Learning Objectives:
List and describe the different routes of administration of medications
List and differentiate the most common dosage forms
List which dosage forms/routes of administration are required to be sterile
Describe pros and cons to various dosage forms
Recognizing potential errors in improper dosage form dispensing
Course Number: ACPE #0653-0000-22-017-L99-T
(Knowledge-base) 1.0 contact hour (0.1 CEUs)
10:00am-11:00am – Tech Check Tech – Moving Technician Practice Forward
Shannon Ridge
Learning Objectives:
Identify the regulations that dictate pharmacy practice.
Compare and contrast tasks allowed by the pharmacist versus technician in Wyoming.
Describe how pharmacy practice could be evolved at your pharmacy based on regulatory requirements.
Course Number: ACPE #0653-0000-22-020-L03-T
(Knowledge -base) 1.0 contact hour (0.1 CEUs)
11:15am-12:15pm – Pharmacy Technician Calculations Review
Dan Hagerman, PharmD
Pharmacist-in-Charge
ZooPharm, LLC
Learning Objectives
Understand and be able to calculate problems involving unit conversions
Calculate amount to be dispensed from written prescriptions
Perform basic calculations utilizing ratios and proportions
Calculate percent strength based on compounding record
Calculate ingredient quantity increases or decreases in a compound
Course Number: ACPE #0653-0000-22-018-L99-T
(Knowledge-base) 1.0 contact hour (0.1 CEUs)
12:45pm-12:45pm – Lunch Break
12:45pm-2:45pm – Gimme the Deets About Diabetes
Jordan Fortner, PharmD
Kellee Tilson, PharmD
Learning Objectives:
Differentiate between types of diabetes mellitus
Compare and contrast treatment options for diabetes, including nonpharmacologic options, oral medications, and insulins
Review diabetes technology devices used for monitoring and medication delivery
Recognize the pharmacy technician's role in the care of the patient with diabetes
Course Number: ACPE #0653-0000-22-L01-T
(Knowledge-base) 2.0 contact hour (0.2 CEUs)
3:00pm-4:00pm – A Tobacco Cessation Protocol for Pharmacy Technicians: Ask, Advice, Refer
Nervana Elkhadragy, PharmD, PhD
Assistant Professor
University of Wyoming
Learning Objectives:
Identify the role of the technician in the cessation process
List the various cessation medications
Refer patients to the appropriate cessation resource(s)
Course Number: ACPE #0653-0000-22-019-L99-T
(Knowledge-base) 1.0 contact hour (0.1 CEUs)
ACCREDITATION INFORMATION

The University of Wyoming, School of Pharmacy, is accredited by the Accreditation Council for Pharmacy Education as a Provider of Continuing Pharmacy Education and designates these live knowledge-based activities for up to a total of 6 contact hours (0.6 CEU's) to pharmacy technicians who attend the program and complete an evaluation / program assessment. Course numbers, instructors, dates, times, and learning objectives are listed separately below.
WHO SHOULD ATTEND / TARGET AUDIENCE
Pharmacy technicians interested in completing ACPE approved educational programs to assist in their practice.
REGISTRATION
Registration is handled through the Wyoming Pharmacy Association https://wypha.org.
FEES / REFUND
Refunds will be made available on a case-by-case basis if the pharmacy technician is unable to attend the sessions.
ACTIVITY OVERVIEW
These educational programs examine a wide variety of clinical topics from regulatory requirements of the Wyoming Board of Pharmacy to clinical opportunities as listed by the topics. Programs provide knowledge-based information which is noted for each activity.
METHODS AND CE REQUIREMENTS
This live activity consists of active participation and engagement during the presentations. Participants must complete the program evaluation provided at the session. The evaluation must be turned in by the end of the last session on Saturday, November 12, 2022. Evaluations that are not received by this time will not be honored and the participant will not receive credit.
CE credits awarded will be electronically uploaded to the CPE Monitor system within 4 weeks of the UW SOP continuing education group receiving fully completed assessments and evaluation forms.
FACULTY DISCLOSURE
As a provider accredited by ACPE, it is the policy of the University of Wyoming, School of Pharmacy continuing education group to ensure balance, independence, integrity, objectivity, and scientific rigor in all educational activities. A potential for bias may exist if a continuing education faculty member is affiliated with or has a financial interest in any ineligible organization(s) that may have a direct interest in the subject matter of the presentation or the selling, marketing, or distribution of products discussed in the presentation. Situations involving potential bias are not inherently problematic or unethical, but the prospective audience must be made aware of the affiliation or financial interest. It is intended that any potential bias be identified openly so that the audience is provided full disclosure of the facts and may form their own judgments about the continuing education activity content.
Faculty for this program have no known conflicts unless noted after the objectives for the associated program.
PRIVACY POLICY
Once you register for a program, your personal information is collected. However, this information is utilized for record-keeping purposes associated with verifying your participation in CE programs in accordance with our accreditation requirements. In addition, this information is used for marketing of other University of Wyoming CE programs. Under no circumstances is your personal information shared with/sold to any other party. You can opt out of receipt of any of our advanced program information at any time.
PROGRAM COORDINATOR
Jen Paintin
Program Coordinator
Postgraduate Education and Continuing Education
University of Wyoming School of Pharmacy
jpaintin@uwyo.edu