WPhA 106th Annual Convention
Aug 04, 2023—Aug 06, 2023
Location
Hilton Garden Inn Casper, WY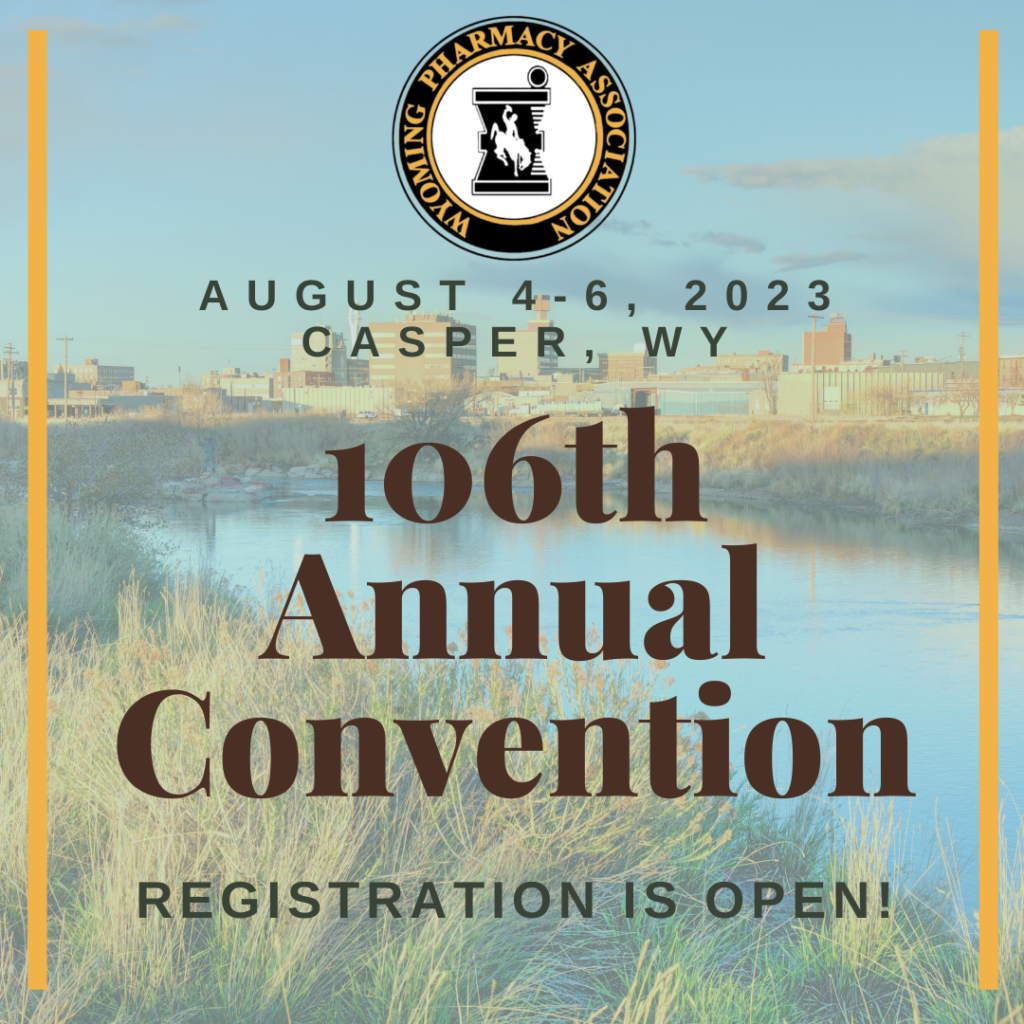 Join us this August in Casper for the WPhA 106th Annual Convention! This two-day conference is designed for pharmacists, pharmacy technicians, and students. Attendees will have the opportunity to attend sessions on an array of contemporary pharmacy topics, interact with exciting exhibitors, network with your esteemed colleagues, and celebrate the accomplishments of your fellow pharmacists!
Draft Agenda
Friday, August 4, 2023
3:15pm – 4:45pm: Smoking Cessation Legislation Prep
6:30pm: Meet and Greet with Vendors
Saturday, August 5, 2023
7:30am – 8:30am: Breakfast (WSHP Annual Meeting)
8:30am – 8:45am: Welcome and Announcements
8:45am – 9:45am: Law
9:45am – 10:15am Break with Vendors
10:15am – 11:45am: Controlled Substances
11:45am – 12:45pm: Elected Officials Town Hall
12:45pm – 1:15pm: Lunch
1:15pm – 3:15pm: Smoking Cessation
Technician Conference topics (Concurrent with Smoking Cessation)
See below for more information
3:15pm – 3:30pm: Break with Vendors
3:30pm – 4:30pm Learn from the Past, Use the Present, and Look to the Future: Generate Impact with PAI 2030
4:30pm – 5:45pm : WPhA Business Meeting Part 1
7:00pm – Reception
7:30pm – 10:00pm: Banquet
Sunday, August 6, 2023
7:30am – 8:30am: Breakfast and WPhA Business Meeting Part 2
8:30am – 9:30am: Counterfeit Medicines and What Pharmacies Need to Know about the Drug Supply Chain Security Act
9:30am – 10:30am: Immunizations
10:30am – 10:45am: Break
10:45am – 12:15pm: Thriving versus Surviving at Work
12:15pm: Concluding Statements
ANNUAL WYOMING PHARMACY TECHNICIAN CONFERENCE
This year, the Annual Pharmacy Technician Conference (formerly held in November) will be integrated into the WPhA/WSHP Annual Convention. This allows for you, the pharmacy technician, to get even more ACPE continuing education credits while still having a dedicated for your special CE. All education sessions of the convention, except for the Saturday Smoking Cessation session, will be ACPE accredited for both pharmacists and pharmacy technicians. In addition, the following sessions are reserved for you.
Saturday, August 5, 2023
12:45pm – 1:15pm: Lunch with Pharmacy Technician Colleagues
1:15pm – 2:15pm: Sterile Compounding
2:15pm – 3:15pm: What Happened: Using Cause and Effect Analysis in Patient Safety
Hotel Information
Hilton Garden Inn
1150 N. Poplar Street
Casper, WY 82601
Room Rate: $149/night
Deadline to book is Thursday, July 20, 2023.
Sponsorships & Vendors
Interested in sponsoring or exhibiting at the Convention? Learn more here.